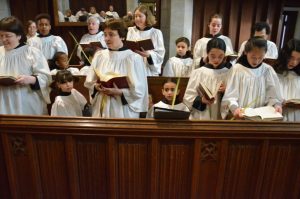 Would you like your child to experience a musical education? The Children's Choir Program at St. Martin's provides a special opportunity for children who enjoy singing and who want to learn to read music. St. Martin's is an affiliate of the Royal School of Church Music click and we use the RSCM "Voice for Life" music training program for our choirs. The St. Cecilia Choir is for children in grade 2 and above (beginning age 7). We are also developing an Angel Choir for grades K-1. Choir rehearsals begin in September.
The Choirs sing in Church several times during the Church year and on special occasions at other venues in the Diocese of Rhode Island.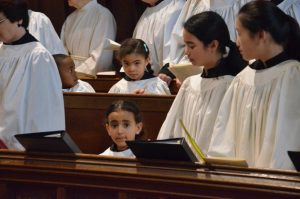 The St. Martin's Children's Choirs are open to all children. It is not necessary to be Episcopalian or even Christian. We hold our music in trust to support our own parish worship life, and as a resource for the musical education of young people in the wider community.  We welcome friends and visitors to come and join us at our rehearsals.
Nicholas Voermans, Minister of Music
For further information, please contact us at the
Church office: 401-751-2141.