Healing Service on February 21 and March 21, 2023, 5:30 – 6pm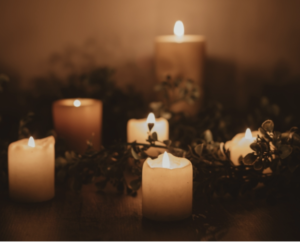 We believe that God's healing balm is encountered in numerous ways as we go about our lives in the world. We also practice the Church's ancient ministry of healing prayer and the sacramental ministry of anointing. We do not believe healing to be so much a miraculous event – although God is often a God of surprises. Yet the surprise is more often an experience of the process of healing which can be either sudden or gradual. The process of healing is not necessarily the eradication of illness or suffering, but the shifting of our perspective so that illness and suffering become sources for renewal and transformation.

Shrove Tuesday Pancake Supper
February 21, 5:30 – 7pm
$12 per person and $25 per family
For more information on Shrove Tuesday, click here.
The Season of Lent
 Ash Wednesday on February 22, 2023
Ash Wednesday Services at 7am, 12 noon, and 7pm in person.
Additionally, the 7pm service will be live-streamed. Here is the link for the 7pm service. 
Lenten Study Groups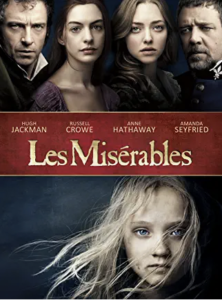 Tuesday Night Study Group Info:
Another Story Must Begin  by Jonathan Meyer is an original Lent course based on the film, the novel and the stage adaptation of Victor Hugo's Les Miserables. Through discussion of some of the themes and principal characters of this epic narrative, the course explores the grace of God and our own fallen state and opportunity for redemption, and helps us to reassess what we can do with our lives and for those around us.
The course is based around five weekly group sessions 6 to 8:15pm on Feb 28, March 7, 14, 21, and 28 
This Lenten Program includes a Vegetarian Soup and Salad Supper catered by More than a Meal.
Suggested cost $85 or pay what you can.  All are welcome.  Includes 5 meals and a study book.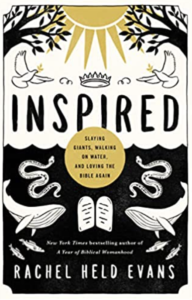 Wednesday Zoom Book Group
Be Inspired this Lent!
You're invited to join Linda+ for a noontime Zoom book group on Wednesdays in Lent beginning March 1 and continuing through March 29. We will discuss Rachel Held Evans' 2018 book, Inspired: Slaying Dragons, Walking on Water, and Loving the Bible Again.
From the author's website: If the Bible isn't a science book, instruction manual, or position paper, then what is it? New York Times bestselling author Rachel Held Evans invites readers on a journey of rediscovery as she explores the magic of the Bible, engaging the old, familiar stories in new ways that honor the past and enlighten the present.
Drawing upon recent scholarship and literary analysis, Evans creatively retells our favorite Bible stories, explaining their contexts and possible interpretations, and then connects these ancient stories to our present-day ones. Using her well-honed literary instincts and experience in both evangelical and mainline Protestant traditions, Evans discovers a way of understanding that avoids noncommittal liberalism on one hand and strident literalism on the other. Readers are invited to fall in love with Scripture all over again without checking their intellect–or their imaginations–at the door.(https://rachelheldevans.com/inspired)
Join us as we discover (or rediscover) the wonder and challenge of Scripture through the eyes of one who has wrestled with its questions, tensions, and challenges and learned to love the Bible anew. Please contact Linda+ for more information and to sign up.
Where to purchase Inspired:
Additionally, you can read online, download, or print a Free Reading Guide.
Daily Reflections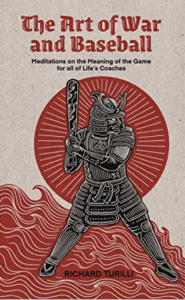 The Art of War and Baseball; Meditations on the Meaning of the Game for all of Life's Coaches  includes 60 short reflections on wisdom, skill, and courage by former parishioner Rich Turilli.
What is baseball but a metaphor for life? This is the question that confronted Turilli one day while he was out on the field coaching his son's youth baseball team. That day, THE ART OF WAR AND BASEBALL was born and later developed into a series of daily reflections for all of life's coaches. Theorizing on an array of common language around the game, Turilli reveals baseball as a school of philosophy on how to live harmoniously within a world that is uncertain and often dangerous. This collection provides the reader a season of reflection and guidance on whatever life throws their way.
Going to the Chapel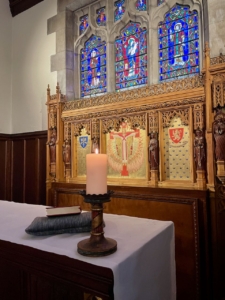 Open Chapel
The Chapel is open for self-guided contemplation and quiet prayer Monday, Tuesday, Thursday, and Friday mornings 8 – 9am through Good Friday.
Begin your day the best way – in the presence of God and community. If you have questions, please click here to email Joshua.

Please join Morning Prayer T -Th,  9 – 9:30am in the Chapel and on Zoom using Daily Prayer an app from the Church of England Common Worship, downloadable from the Apple and Google Play stores. The app offers morning, evening, and night prayer for each day – with audio podcast for morning and evening which offers a participation in the daily office prayers as a listening rather than reading experience.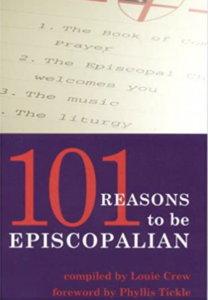 101 Reasons to be Episcopalian: "The Episcopal Church is a secret too well kept," says compiler Louie Crew. "Many are starved for what we experience daily and too easily take for granted." Amazon.com or Church Publishing.
Wondrous Encounters; Scriptures for Lent. Richard Rohr. "During these forty days of Lent, let's allow ourselves to be known! All the way through. Nothing to hide from, in ourselves, from ourselves, or from God."
Little Way Lenten Guide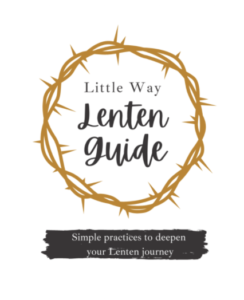 The Little Way Lenten Guide will help simplify and deepen your family's Lenten journey. The Little Way Lenten guide is a 50 page digital download PDF sent directly to your inbox. KidZone lessons will be inspired by this resource. Families will enjoy having a copy for Lenten discussions and observations at home.
Self-guided Stations of the Cross
An addition to our worship schedule this year will be Self-guided Stations of the Cross.
This is a podcast accessible here.  At weekly advertised times in the church the podcast will be played over the loudspeakers allowing small groups to gather and experience this moving meditation together. The podcast can also used as a private meditation at home or using earbuds or headphones while out walking, or as an individual experience using the pictorial Stations of the Cross in the Church.