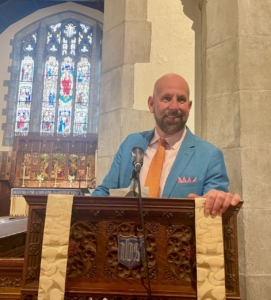 The Book of Common Prayer uses the title "Prayers of the People" for the oratio fidelium or general intercessions in the eucharist. Such prayers have a long and venerable history. Their existence was first mentioned by Justin Martyr about the year 150, and for centuries they formed a vital part of the Daily Office and eucharistic liturgy. In the early church they usually included a long series of biddings that were chanted by a deacon, to each of which the people responded with "Kyrie eleison"
At St. Martin's, the Prayers of the People are seen as a companion to the sermon and thus composed by either the Rector or the preacher of the day and led by a member of the congregation. They seek to focus our attention on timely concerns in both our community and the world around us – channelling the power of our communal prayer to strengthen the values and expectations of God's kingdom for the world.
Prayers of the People: Advent 2 (12/10/23)
The response to the bidding, "God of hope" is "hear us."
In this Advent season of waiting in hope, we urgently pray for the establishment of peace with justice in the Holy Land and in Ukraine. Give to us the deepening wisdom – in a time of controversy and conspiracy to be open-minded and open-hearted as we struggle to hold simultaneously conflicting thoughts and feelings. Let our Advent hope contribute to the strengthening of your dream for the world's healing and restoration; for the coming of peace with justice for all. God of hope—Hear us.
Remember Lord your Church and her life:
We pray for all in positions of responsibility, for +Justin, Archbishop; +Michael, Presiding Bishop; +Nicholas, our bishop; and +Hosam, Anglican Archbishop of Jerusalem and the Gulf; For Pope Francis, Ecumenical Patriarch Bartholomew, and the leaders of Protestant and Reformed Churches.
We pray for the Christian people of God.

God of hope—Hear us.
Remember Lord our world and its needs: 
God the source of all wisdom, guide the leaders of the nations – chiefly among them the President of the United States. Strengthen

the leaders of democratic and free nations and soften the hearts of tyrants and autocrats everywhere. 

God of hope—Hear us.
We pray that Congress may find its better voice – to rise above a petty transactionalism to accomplish the good purposes – national and international – we have entrusted to it. 

God of hope—Hear us.
We pray for the planet, our island home:
We remember people and communities facing or recovering from the devastation of wildfire, earthquake, and flood. We pray for communities experiencing excessive heat and prolonged drought.

God of hope—Hear us.
God of Exodus, we remember our responsibilities towards the vulnerable stranger in our midst and on our borders. We pray for humane and effective immigration reform that recognizes the impact of climate change on global refugee migration.  God of hope—Hear us.
We pray for those whose strength is failing through ill health, whose spirits are flagging through depression, whose determination is being sapped through addiction. We remember by name: Sam, Sylvia, Michael, Linda,                                 together with others known to us :  
We pray for our own needs, together with those nearest and dearest to us, remembering Diana Blake, Rosalind Ditson, Diane Lewis, Mesiah Nyahkoon, Gene Johnson, Christine Rhodes, Rick Goff, Ben Rhodes, and Anita Serrao-Forrest, who will celebrate birthdays this week.    
God of hope—Hear us.
We pray for those we love yet see no longer, especially [__________, and] those we name. [pause] We pray for all who grieve. God of hope—Hear us.
Celebrant adds a concluding prayer.