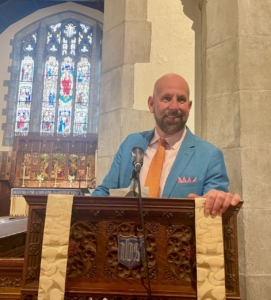 The Book of Common Prayer uses the title "Prayers of the People" for the oratio fidelium or general intercessions in the eucharist. Such prayers have a long and venerable history. Their existence was first mentioned by Justin Martyr about the year 150, and for centuries they formed a vital part of the Daily Office and eucharistic liturgy. In the early church they usually included a long series of biddings that were chanted by a deacon, to each of which the people responded with "Kyrie eleison"
At St. Martin's, the Prayers of the People are seen as a companion to the sermon and thus composed by either the Rector or the preacher of the day and led by a member of the congregation. They seek to focus our attention on timely concerns in both our community and the world around us – channelling the power of our communal prayer to strengthen the values and expectations of God's kingdom for the world.
Prayers of the People:
6/4/23 Trinity Sunday
The response to the bidding, "Community of Divine Love;" is "envelop us."
Community of Divine Love, envelop us so that we might realize your promise that to be more fully human is to be most like you.
Community of Divine Love – envelop us.
Inspire in our political leaders a calling to serve; strengthen them to become better than they currently are and forgive them for their neglect to foster humane and just communities.
Community of Divine Love – envelop us.
Hear us as we stand in prayerful solidarity with people in places where war, violence and division destroy the peaceful civic fabric of society. We continue to hold before you the people of Ukraine, Sudan, Pakistan, and Myanmar. We continue to pray for the Palestinian people in their struggle for self-determination and statehood and for the protection of Israeli rule of law. 
We pray for all forced to flee their homeland, enduring unimaginable suffering as our world convulses with population displacement as a result of violence, persecution, hunger, and poverty. We pray for Congress to address the issues of US immigration reform in earnest. 
We pray for all whose environment is degraded or devastated by the forces we have unleashed in climate change – communities threatened by wildfire, flood, drought, and wind. 
God who is Love, in this season when LGBTQ+ communities throughout the world celebrate Pride Month, we hold before you the victims of the sin of homophobia in our own country and throughout the world in countries too many to mention here. We especially hold before you LGBTQ+ persons in places where political and religious-led persecution now results in criminalization including the death penalty.
Community of Divine Love – envelop us.
We remember those whose strength is failing through ill health,
whose spirits are flagging through depression, whose determination is being sapped through addiction; that they might better feel your love expressed through our love for them. 
Community of Divine Love – envelop us.
We remember with love those who have asked for our solidarity in prayer:  Gail, Sam, Ann, Michael, Alton, Kurt, Robert____, and those we name: [pause],
Community of Divine Love – envelop us.
We remember our own needs, together with those nearest and dearest to our own hearts. We join with Mark Aaron Perry, Chris Izzo, Peter Lofgren, John Staniunas, Dana Welshman, Ian Tulungen [pr. TOO-lun-gun], Missy Bennett, Raya Goff, and Meg LoPresti, who are celebrating birthdays this week.
We give thanks for the marriage of Matthew Kleyla, [pr. KLY-la] son of Pat and David Whitman, to Rebecca Pierpont at Smith Farm Gardens in East Haddam, Connecticut on Sunday, May 28th.
Community of Divine Love – envelop us.
We also remember those we love yet to see no longer; for all who have recently died, especially [____________, and] those we name. [pause]. We pray for all who grieve.
Community of Divine Love – envelop us.