HOLY HAPPENINGS THIS SUNDAY
October 21, 2018
8 am & 9:30 am services
9:15 am Nursery   9:30 am Church School
9:30 am 'Skip Church' Breakfast in the Kitchen
11 am Adult Formation: Kick-off of Social Justice Bible Challenge
6 pm Women's Spirituality Group at 6 pm at Susan Allen's home
**Coffee Hour Sunday is hosted by the Finance Committee.
COMING UP
*2nd Tuesday of the month…St. Martin's Men's Community (SMMC) at 6:15 pm
*3rd Tuesday of the month…Healing Service at 5:30 pm
Tuesday, October 23
Installation of the Rev. Dr. John P. Reardon as Vicar of St. James Church
7 pm at 474 Fruit Hill Avenue, N. Providence, RI
Thursdays, October 25; November 1
Meditation Hour 5:30pm
Kids Choir rehearsal 6:15pm
Adult Choir rehearsal 7:30pm
October 26-28
(Friday through Sunday)
**Friday evening session open to all
BIODANZA
"Dance of Life" in St. Martin's Great Hall
Biodanza is a simple, accessible, joy-filled and profound community dance practice combining music, movement & self expression (no 'steps' to learn). The word "biodanza" literally means to dance with life. Carolina Churba-Doyle, an International Biodanza Master Teacher from Argentina/Egypt/South Africa/London is coming to Rhode Island for just this one workshop.  For more info go here.
Saturday, October 27
ECC Halloween Village  1-5pm
For more info go to http://www.eccri.org/halloween-village/
Sunday, October 28
Kids Choir sings 9:30am
Saturday, November 3
Memorial Garden Clean-up 10am
Want to help? Contact Meg LoPresti at gebler@cox.net
+
Knitting Ministry 12:30pm-3:30pm
Contact Natasha Lofgren at nal811@icloud.com or Jill Scott at mhscott65@gmail.com
Sunday, November 4
Women's Spirituality Group  6 pm
Sunday, November 10
Concert: Sine Nomine   7 pm in the Church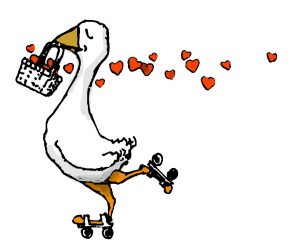 Our 'Thrifty Goose' Thrift Shop is in GREAT NEED of good, quality, current style FALL & WINTER tops, sweaters, jackets, coats for women and men. No pants/slacks or suits needed. They also need Fall and Winter clothing, toys and books for children of all ages. If you drive it over, we'll carry it in! Call us at 751-2141. The Thrifty Goose NEW Fall Hours: Wednesdays, Fridays, and Saturdays from 10 am-2 pm. Thank you!!